Welcome to the My Harem Heaven Is Yandere Hell Wikia
Edit
My Harem Heaven Is Yandere Hell
is a little-known visual novel made in Japan. To help raise awareness, this is to help people know about the visual and support the creators.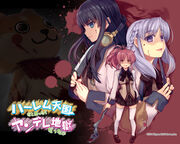 Yuuya Kisaragi is a normal high school student. He's a part of the history research club-- or ReRe club for short -- with three girls who grew up with him: Haruka Arisue, a pink-haired girl and a cheery tomboy who's good at sports like baseball and bad with schoolwork. Sayuri Miyasu, a gentle white-haired girl who excels at all kind of domestic chores, especially at sewing. And Kanna Totomi, an intelligent upperclassman who doesn't have an easy time interacting with people and, ironically enough, is the president of their school club.
One day, the student council president tells him that unless his club does something during an upcoming festival, the club will be disbanded. Now he must decide what they should do to save the club. Unfortunately, his choice leads him down a dangerous path. How will this end for him and his club?
Latest activity
Edit
Photos and videos are a great way to add visuals to your wiki. Find videos about your topic by exploring Wikia's Video Library.